Covigun
Special price²

Covigun: €249,00
Disinfectant 5L: €59,99
The COVIGUN is a unique portable, wireless, lightweight disinfectant sprayer¹, powered by patented atomizing technology to fight viruses, bacteria and other pathogens³.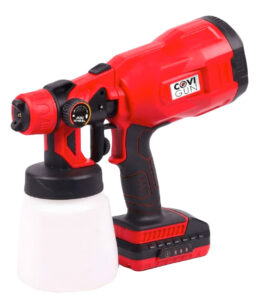 Rapid disinfection between two customers
No more time wasted
360° Disinfection in all corners and edges
Creates a film (depending on the surface type)
Works on rechargeable battery
Tank 800ml for 1.250 m³ (with 8ml disinfectant)
Order
Scan the QR code below and follow the steps on your smartphone, tablet or laptop.
1 The disinfectant used is a biocide, only for professional users
2 Prices include VAT and are valid until November 30, 2020
3 Combats enterococcus hirae, candida allbicans, pseudomonas aeruginosa, staphylococcus aureus, e. packages,…
Use biocides safely. Before use, read the label and product information.